Pipe bundling line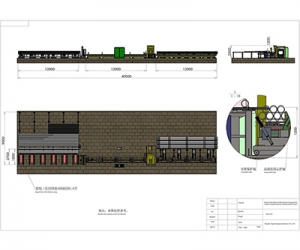 Pipe bundling line, steel tube bundle packaging line
Feature
Line Steel Pipe Packing include front line power, alignment device, automatic machine bunch of pipes, automatic strapping machine, transfer line and added storage rack and etc. .. It is a set of equipment virtually automatic, efficient, convenient and safe for packing hexagonal bundle packing line.
Description:
Alineando los productos que son de enderezadora
↓
Transportando y calculando los productos para el apilamiento
↓
Cálculo automático de número de tubería
↓
Estratificación automática de tubería
↓
Formando hexagonal y transportando el manojo
↓
Flejado automático en la estación de flejado
↓
Transportar y agregar los productos por sistema de despacho
↓
Acaben de embalar y partir del próximo círculo.
1. Automatic alignment device The equipment is connected to the straightening machine harvesting products C- channel angle one by one and automatically aligning to different length products. Calculating and preparing for the bundle layer stacking.
2 . Layer lifting pipes and aligning system The machine is attached with automatic pipe bundling function for hexagonal array 6m pipe can transfer .Packed steel tubing to connect to the next step of packaging.
features:
Automatic transfer of lined steel c-canal/ángulo the forming device . Automatic operation , easy adjustment . Automatic adjustment according to the different length of the products. Semi automatic mode and automatic operation. Automatic level adjustment height stratification. Bunch square forming and transporting . Special program designed to eliminate cumulative error .
3 . Automatic Strapping Machine This equipment consists of frame vertical type , packaging machine, track tape yarn , tape reel carriage and control system.
Basic features:
PLC control system , automatic and automatic deletion signal work.
Adopted mode without button , effectively reduces packaging failure .
Strip steel standard packing , size 32 × 0.8mm
You can use the control panel to operate when the room temperature is below 5 ° C.
Main parameters: Appropriate speed : 20m/min ~ approx. 8 Packing speed : 90-120 No more bunches / hour according to the schedule .
Power Supply : AC 380V , 50Hz
Air Supply: 6 ~ 8kgf/cm2 Tensile strength of steel strip : 18000N
4 . Dispatch System This system consists of transmission line , lift truck , platform, storage, etc. .. Delivery products and stores attached .
Features: Synchronous transfer, synchronous lifting mechanism . Multiple safety protections . Open structure , suitable for crane work . Integrated embedded structure , simple and convenient maintenance appearance.