Coil Master/Coil eye through wrapping machine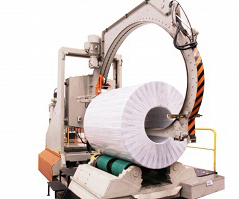 Eye coil wrapping machine, CoilMaster
The packaging system the coil of the equipped with two blockers, roller station specialized packing of steel, to make the package dustproof, well protected and decorated. Basic features of the machine PLC & HMI operation interface are adopted. Orbital track with shuttles to wrap
Machine mounted on the floor of structure. The trolley allow powered travel wrap for wrapping station. Mobile system to allow cross between blockers rollers. Shuttles dispensing two sets of packing material System of clamp's with tension tire to keep the packing material start cycle and cut at the end of the cycle The operator console that incorporates:

HMI: 10 color touch screen "
Visual operator interface with menu system
Idiomainglesaccede to the operation of the system for the establishment of machine and wrap parameters.
Level password multipleprotege access to user interface JRS security system control buttons Control panel mounted on the machine base frame, within which it is installed: PLC (Allen Bradley Compact Logix) Electronic speed control unit variableara allow blocking winding roll control Units of electronic variable speed control to control the movement of the horizontal machine "X-axis" horizontal machine motion The system program, parameterized via the visual user interface 2 sets of 35 tons capacity of floor mounted blockers rolls. Coil can get and place in blocker rolls to a maximum speed of 6 feet per minute Manual and automatic operating mode you can choose. The converter is adopted to adjust the transfer Ribbon packing according to the requirement. Height is adjustable for small to large coil. Simple operation through the introduction of OD. ID width & corrected parameter of rolled metal. Other parameters are set automatically. Soft start and stop The overlapping is adjustable. Packing position reset function. Sensors for positioning of cart Banisters, soft start and stop for the security operation. Suitable for lifting, safe and reliable. Twist ring height can be adjusted according to different OD central positioning by motor. Packing tension is adjustable. The rolls are wrapped by polyurethane Indicator will automatically alarm when trouble occurs. The problem can be displayed automatically. Design and production of machine based 2006/42/EC