Automatic pipe packaging line
Steel pipe bundling packaging line
Profile
The system bundle machinery steel pipe handles and organizes pipeline packet size according to the size of the product. Fully automated and controlled from an operator station with touch screen, the system builds the program pattern and completely containing the sides to hold the shape until the strapping is completed. This system comprises an elevator machinery in-feed elevator layer forming hexagonal machine, conveyor, etc. .. It is a set of equipment of effective, convenient and safe package for pipes, pipe bundle packaging.
Description:
Moving the pipe from production line
↓
Feeding the pipe one by online
↓
Automatic pipe aligning and counting
↓
Bundle making layer by layer
↓
Pipe bundle transports to storage position
1. Pipe bundling machine
Equipment for the organization of the pipe and to make bundle.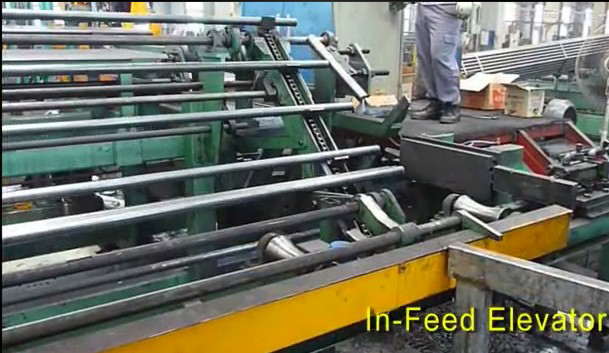 features:
It is for pipes of 16 mm to 114 mm.
Automatic counting by configuration.
Conveyor pipe rises.
2. Pipe bundling machine


The equipment handles and organizes packages pipe size according to the product size and configurations.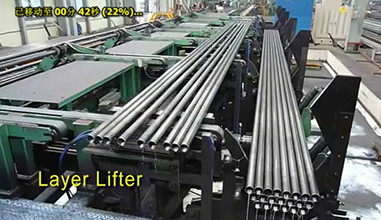 Features:


Programmed settings for all settings manojos.Todos configuration changes available for selection on the touch screen panel on the operator control station . It is adjustable to the size of the pipe 16 -114mm Special roller conveyor designed to move the bundle forming device from the station manojoa tied . After counting pipe layer , which accumulate in the pop -up stop waiting for the construction of the bundle layer . The extended fork is extended so that the layer can be released to roll on the holder construction . One stop for positioning a way pipe that removes the pipe from bouncing out of position, and a support device is lowered to keep the pipe in place while the extended fork is removed. The device attached to the next lower layer may be released by the pop -up stops .
3. Another machine


Move the tubes bundle forming device. Keep wrapping bunch with hexagon.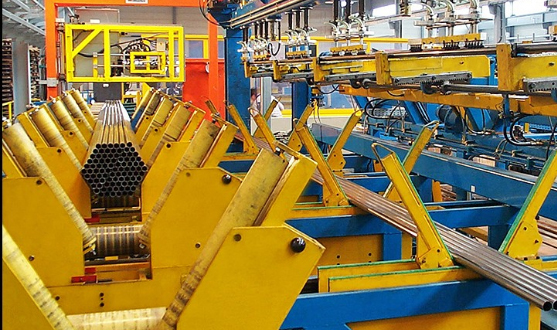 Features:


Device forming support to maintain the shape hexagon bundle. Roller conveyor designed to move heavy bunch of pipe. Position manually tied.
Technical:


Length: 6000mm
Weight: 500-3000kg
OD of pipe: 16-114m
OD of bundle : 800mm
Length: 1-10m/min
Power: AC,380V, 50Hz